In Protect Ebook.net, everything is managed through our software named the Protect Ebook client
First you have to download it.
After having subscribed to Protect Ebook.net, you should have received login information to access your account. From your account manager, you can download the latest version of the Protect Ebook client.
The Protect Ebook client is a portable Windows application. Just save the EXE file to a writeable folder or a USB stick, and execute it.
The following window appears: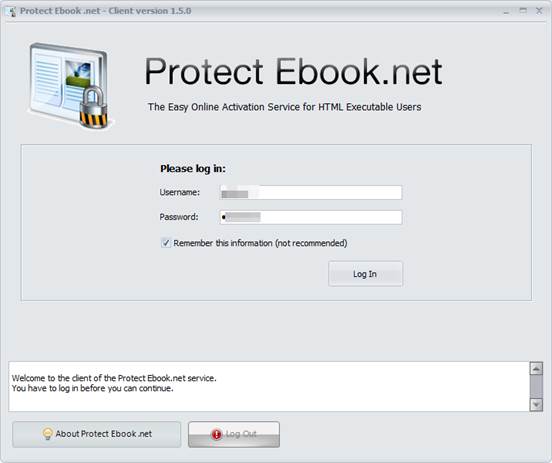 Enter your login information and click "Log In".
Once you are connected, three tabs are displayed : "My Account", "My Publications" and "My Users".
Overview of the Protect Ebook.net client
"My Account" lets you see an overview of your account.
"My Publications" lets you manage the ebooks and publications registered with Protect Ebook.net, and configure resellers such as PayPal, WooCommerce, e-junkie, FastSpring...
"My Users" lets you manage all end users of your ebooks and publications (add new users manually, block access for specific users, reset number of activations, export list of your customers…).